$12.99
NZD
Category: Philosophy | Series: Penguin Great Ideas Ser.
'It is possible for man to snatch the world from the darkness of absurdity' How should we think and act in the world? These writings on the human condition by one of the twentieth century's great philosophers explore the absurdity of our notions of good and evil, and show instead how we make our own des tiny simply by being. One of twenty new books in the bestselling Penguin Great Ideas series. This new selection showcases a diverse list of thinkers who have helped shape our world today, from anarchists to stoics, feminists to prophets, satirists to Zen Buddhists. ...Show more
$12.99
NZD
Category: Philosophy | Series: Penguin Great Ideas Ser.
'People can only be free in relation to one another.' Three exhilarating and inspiring essays in which the great twentieth-century political philosopher argues that there can be no freedom without politics, and no politics without freedom. One of twenty new books in the bestselling Penguin Great Ideas s eries. This new selection showcases a diverse list of thinkers who have helped shape our world today, from anarchists to stoics, feminists to prophets, satirists to Zen Buddhists. ...Show more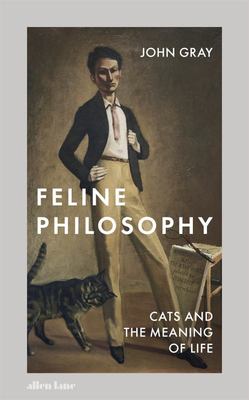 $45.00
NZD
Category: Philosophy
The history of philosophy has been a predictably tragic or comical succession of palliatives for human disquiet. Thinkers from Spinoza to Berdyaev have pursued the perennial questions of how to be happy, how to be good, how to be loved, and how to live in a world of change and loss. But perhaps we can l earn more from cats-the animal that has most captured our imagination-than from the great thinkers of the world.In Feline Philosophy, the philosopher John Gray discovers in cats a way of living that is unburdened by anxiety and self-consciousness, showing how they embody answers to the big questions of love and attachment, mortality, morality, and the Self: Montaigne's house cat, whose unexamined life may have been the one worth living; Meo, the Vietnam War survivor with an unshakable capacity for "fearless joy"; and Colette's Saha, the feline heroine of her subversive short story "The Cat", a parable about the pitfalls of human jealousy. Exploring the nature of cats, and what we can learn from it, Gray offers a profound, thought-provoking meditation on the follies of human exceptionalism and our fundamentally vulnerable and lonely condition. He charts a path toward a life without illusions and delusions, revealing how we can endure both crisis and transformation, and adapt to a changed scene, as cats have always done. ...Show more
$26.00
NZD
Category: Philosophy
What aspects of your life do you really control? What do you do when you cannot guarantee that things will turn out in your favour? And what can Stoicism teach us about how to live together? In the past few years, Stoicism has been making a comeback. But what exactly did the Stoics believe? In Lessons in Stoicism, philosopher John Sellars weaves together the key ideas of the three great Roman Stoics - Seneca, Epictetus and Marcus Aurelius - with snapshots of their fascinating lives, to show us how their ideas can help us today. In vivid prose, Sellars shows how the works of these three Stoics have inspired readers ever since, speaking as they do to some of the perennial issues that face anyone trying to navigate their way through life. Their works, fundamentally, are about how to live - how to understand one's place in the world, how to cope when things don't go well, how to manage one's emotions and how to behave towards others. Consoling and inspiring, Lessons in Stoicism is a deeply thoughtful guide to the philosophy of a valuable life. ...Show more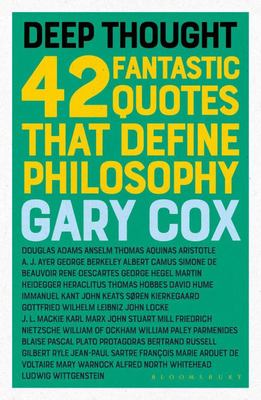 $21.99
NZD
Category: Philosophy
Gary Cox guides us through 42 of the most misunderstood, misquoted, provocative and significant quotes in the history of philosophy providing a witty and compelling commentary along the way. This entertaining and illuminating collection of quotes doesn't merely list who said what and when, it explores w ho each philosopher is and what he or she really meant when they said what they said. Viewing each quote as a philosophical thesis in itself, Cox probes the writings of everyone from Douglas Adams to A.J. Ayer and Thomas Aquinas to Karl Marx. This is a philosophical journey through history, culture and writing to bring us to a deeper understanding of why we think the way we do. As Douglas Adams points out, if there is no final answer to the question, 'What is the meaning of life?', '42' is as good or bad an answer as any other. Here Cox shows that 42 quotes might be even better! ...Show more
$35.00
NZD
Category: Philosophy
The Black Swan is a standalone book in Nassim Nicholas Taleb's landmark Incerto series, an investigation of opacity, luck, uncertainty, probability, human error, risk, and decision-making in a world we don't understand. The other books in the series are Fooled by Randomness, Antifragile, Skin in the Gam e, and The Bed of Procrustes.   A black swan is a highly improbable event with three principal characteristics: It is unpredictable; it carries a massive impact; and, after the fact, we concoct an explanation that makes it appear less random, and more predictable, than it was. The astonishing success of Google was a black swan; so was 9/11. For Nassim Nicholas Taleb, black swans underlie almost everything about our world, from the rise of religions to events in our own personal lives.   Why do we not acknowledge the phenomenon of black swans until after they occur? Part of the answer, according to Taleb, is that humans are hardwired to learn specifics when they should be focused on generalities. We concentrate on things we already know and time and time again fail to take into consideration what we don't know. We are, therefore, unable to truly estimate opportunities, too vulnerable to the impulse to simplify, narrate, and categorize, and not open enough to rewarding those who can imagine the "impossible."   For years, Taleb has studied how we fool ourselves into thinking we know more than we actually do. We restrict our thinking to the irrelevant and inconsequential, while large events continue to surprise us and shape our world. In this revelatory book, Taleb explains everything we know about what we don't know, and this second edition features a new philosophical and empirical essay, "On Robustness and Fragility," which offers tools to navigate and exploit a Black Swan world.   Elegant, startling, and universal in its applications, The Black Swan will change the way you look at the world. Taleb is a vastly entertaining writer, with wit, irreverence, and unusual stories to tell. He has a polymathic command of subjects ranging from cognitive science to business to probability theory. The Black Swan is a landmark book--itself a black swan.   Praise for Nassim Nicholas Taleb"The most prophetic voice of all."--GQPraise for The Black Swan   " A book] that altered modern thinking."--The Times (London)   "A masterpiece."--Chris Anderson, editor in chief of Wired, author of The Long Tail"Idiosyncratically brilliant."--Niall Ferguson, Los Angeles Times"The Black Swan changed my view of how the world works."--Daniel Kahneman, Nobel laureate   " Taleb writes] in a style that owes as much to Stephen Colbert as it does to Michel de Montaigne. . . . We eagerly romp with him through the follies of confirmation bias and] narrative fallacy."--The Wall Street Journal"Hugely enjoyable--compelling . . . easy to dip into."--Financial Times"Engaging . . . The Black Swan has appealing cheek and admirable ambition."--The New York Times Book Review ...Show more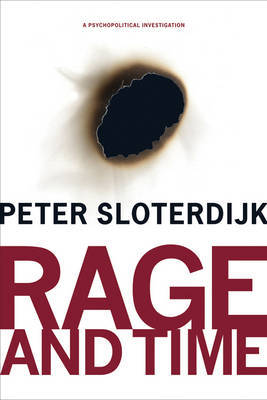 $74.00
NZD
Category: Philosophy | Series: Insurrections: Critical Studies in Religion, Politics, and Culture
While ancient civilizations worshipped strong, active emotions, modern societies have favored more peaceful attitudes, especially within the democratic process. We have largely forgotten the struggle to make use of thymos, the part of the soul that, following Plato, contains spirit, pride, and indignati on. Rather, Christianity and psychoanalysis have promoted mutual understanding to overcome conflict. Through unique examples, Peter Sloterdijk, the preeminent posthumanist, argues exactly the opposite, showing how the history of Western civilization can be read as a suppression and return of rage. By way of reinterpreting the Iliad, Alexandre Dumas's Count of Monte Cristo, and recent Islamic political riots in Paris, Sloterdijk proves the fallacy that rage is an emotion capable of control. Global terrorism and economic frustrations have rendered strong emotions visibly resurgent, and the consequences of violent outbursts will determine international relations for decades to come. To better respond to rage and its complexity, Sloterdijk daringly breaks with entrenched dogma and contructs a new theory for confronting conflict. His approach acknowledges and respects the proper place of rage and channels it into productive political struggle. ...Show more
$21.99
NZD
Category: Philosophy | Series: 200 Words Ser.
If you have ever felt at a disadvantage when joining in a conversation on a subject that you aren't confident about, this new series is for you. Each book features definitions of two hundred words frequently used to describe and discuss a smart subject. Philosophy can be baffling, as well as fascinating , to the best of us. Let Anja Steinbauer guide you through doubt, dialectic, Dao, and much more. ...Show more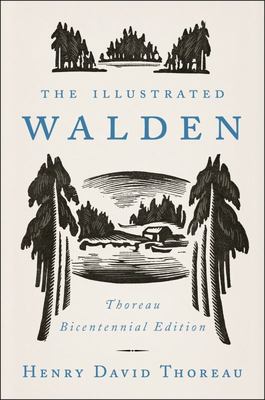 $40.00
NZD
Category: Philosophy
To coincide with the bicentennial of Thoreau's birth and TarcherPerigee's publication of Expect Great Things: The Life of Henry David Thoreau, here is a sumptuous rediscovery edition of the first illustrated volume of Thoreau's classic, as originally issued in 1897.   In 1897, thirty-five years after Thoreau's death, Houghton Mifflin issued a two-volume "Holiday Edition" of Walden illustrated with thirty remarkable engravings, daguerreotypes, and period photographs. In 1902 the publisher collected the work into a single volume. Now, to mark the bicentennial of Thoreau's birth in 1817, this timeless landmark is reproduced with all of the original illustrations and the complete text of his mystical, practical, magisterial record of a life in the woods. ...Show more
$35.00
NZD
Category: Psychology / Sociology:
'I will be forever changed by Dr Eger's Story' Oprah This practical and inspirational guide to healing from the bestselling author of The Choice shows us how to release your self-limiting beliefs and embrace your potential. The prison is in your mind. The key is in your pocket. In the end, it's not wha t happens to us that matters most - it's what we choose to do with it. We all face suffering - sadness, loss, despair, fear, anxiety, failure. But we also have a choice; to give in and give up in the face of trauma or difficulties, or to live every moment as a gift. Celebrated therapist and Holocaust survivor, Dr Edith Eger, provides a hands-on guide that gently encourages us to change the imprisoning thoughts and destructive behaviours that may be holding us back. Accompanied by stories from Eger's own life and the lives of her patients her empowering lessons help you to see your darkest moments as your greatest teachers and find freedom through the strength that lies within. ...Show more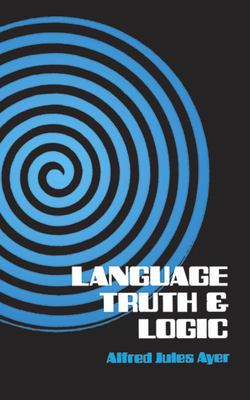 $25.00
NZD
Category: Philosophy
"A delightful book ... I should like to have written it myself." -- Bertrand RussellFirst published in 1936, this first full-length presentation in English of the Logical Positivism of Carnap, Neurath, and others has gone through many printings to become a classic of thought and communication. It not on ly surveys one of the most important areas of modern thought; it also shows the confusion that arises from imperfect understanding of the uses of language. A first-rate antidote for fuzzy thought and muddled writing, this remarkable book has helped philosophers, writers, speakers, teachers, students, and general readers alike.Mr. Ayers sets up specific tests by which you can easily evaluate statements of ideas. You will also learn how to distinguish ideas that cannot be verified by experience -- those expressing religious, moral, or aesthetic experience, those expounding theological or metaphysical doctrine, and those dealing with a priori truth. The basic thesis of this work is that philosophy should not squander its energies upon the unknowable, but should perform its proper function in criticism and analysis. ...Show more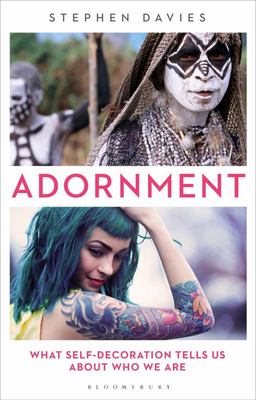 $43.99
NZD
Category: Philosophy
Elaborating the history, variety, pervasiveness, and function of the adornments and ornaments with which we beautify ourselves, this book takes in human prehistory, ancient civilizations, hunter-foragers, and present-day industrial societies to tell a captivating story of hair, skin, and make-up practic es across times and cultures. From the decline of the hat, the function of jewelry and popularity of tattooing to the wealth of grave goods found in the Upper Paleolithic burials and body painting of the Nuba, we see that there is no one who does not adorn themselves, their possessions, or their environment. But what messages do these adornments send? Drawing on aesthetics, evolutionary history, archaeology, ethology, anthropology, psychology, cultural history, and gender studies, Stephen Davies brings together African, Australian and North and South American indigenous cultures and unites them around the theme of adornment. He shows us that adorning is one of the few social behaviors that is close to being genuinely universal, more typical and extensive than the high-minded activities we prefer to think of as marking our species - religion, morality, and art. Each chapter shows how modes of decoration send vitally important signals about what we care about, our affiliations and backgrounds, our social status and values. In short, by using the theme of bodily adornment to unify a very diverse set of human practices, this book tells us about who we are. ...Show more