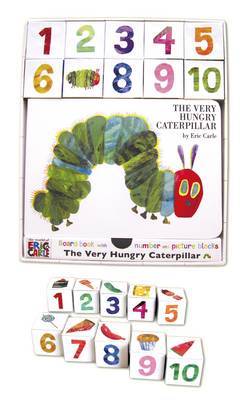 $30.00
NZD
Category: Board Books | Series: The Very Hungry Caterpillar
Eric Carle's classic story "The Very Hungry Caterpillar", with playful building blocks! A great way to read and explore Eric Carle's classic picture book, this interactive gift set combines the bestselling board book with colourful number and picture blocks which can be used to: tell the story of the ve ry hungry caterpillar; count along from 1 -10; match numbers and colours with all the things eaten by the caterpillar; build picture puzzles of the very hungry caterpillar and the beautiful butterfly he becomes; show the life cycle sequence of a caterpillar and a butterfly; and much more! This wonderful set encourages interactivity and the use of children's imagination. Eric Carle is an internationally bestselling and award-winning author and illustrator of books for very young children. Eric lives in Massachusetts with his wife, Barbara. The Carles opened The Eric Carle Museum of Picture Book Art in Massachusetts in 2002. Don't miss all the other "Very Hungry Caterpillar" and Eric Carle books: "The Very Hungry Caterpillar"; "Eric Carle's Very Special Baby Book"; "Polar Bear, Polar Bear, What do You Hear?" ; "The Very busy Spider"; "The Very Quiet Cricket"; "The Artist Who Painted a Blue Horse"; "1, 2, 3 to the Zoo"; "Baby Bear, Baby Bear, What do you See?"; "The Very Hungry Caterpillar Pop-Up Book"; "Polar Bear, Polar Bear, What Do You Hear?"; "The Very Hungry Caterpillar's Buggy Book"; "Brown Bear, Brown Bear, What Do You See?"; "The Bad-Tempered Ladbybird"; "The Very Hungry Caterpillar: Little Learning Library"; "The Very Hungry Caterpillar: Touch and Feel Playbook"; "My Very First Book of Words"; "The Very Hungry Caterpillar Book and Toy"; "Little Cloud"; "Today is Monday"; "My Very First Book of Shapes"; and, "The Very Hungry Caterpillar's Sound Book". It also includes: "The Very Hungry Caterpillar"; "From Head to Toe"; "The Very Hungry Caterpillar Big Board Book"; "Draw Me a Star"; "Mister Seahorse"; "Do You want to be My Friend?"; "The Tiny Seed"; "The Mixed-up Chameleon"; "The Very Hungry Caterpillar: Book and CD"; "Baby Bear, Baby Bear, What do you See?" ; "The Very Hungry Caterpillar Board Book and Block Set"; "Rooster's Off to See the World"; "Count with the Very Hungry Caterpillar: Sticker Book"; "My Very First Book of Colours"; "The Very Hungry Caterpillar: Finger Puppet Book"; "My Own Very Busy Spider Colouring Book"; "Slowly, Slowly, Slowly, Said the Sloth"; and, "The Very Hungry Caterpillar and Friends: My Very First Annual". ...Show more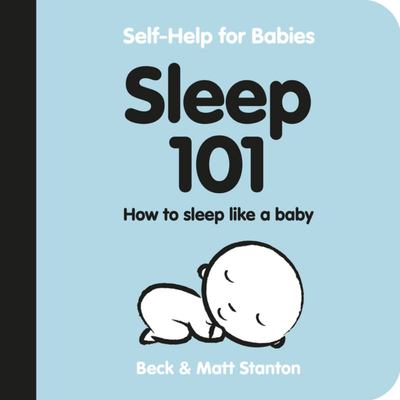 $16.99
NZD
Category: Board Books | Series: Self-Help for Babies
Self-Help for Babies: if you don't laugh, you'll cry. Dear Baby Do you feel like sleeping is a dream, but getting to sleep is a nightmare? Don't worry. A lot of babies feel this way. We're here to help you get the sleep you deserve, in the places you love. Sweet dreams! If you've had a baby, you've no doubt had some well-meaning parent smugly say, 'You know, babies don't come with a manual.' Well, now your newborn can READ the manual with Self-Help for Babies, a hilarious new series from bestselling Australian authors Beck and Matt Stanton. ...Show more

$24.99
NZD
Category: Board Books
A graphically stunning introduction to constellations for the youngest readers, following the meteoric rise of global bestseller Seeing Stars This stylish, informative board book helps younger children identify six of the most recognizable animal constellations from The Great Bear to the The Southern F ish. Each constellation is introduced as a cluster of stars with its connected-line shape; readers then guess the animal through a series of read-aloud clues. A full animal illustration gatefold reveals the answer, accompanied by extra information about the constellation and its important stars. Perfect for bedtime stargazing Ages 2-4 ...Show more
$22.99
NZD
Category: Board Books | Series: ABC for Me
ABC What Can She Be? presents a colorful world of possibilities--from astronaut to zoologist and everything in between--for all little girls with big dreams. Not even the sky is the limit with this fun approach to learning the alphabet. In this new title from Walter Foster Jr., ABC What Can She Be?encou rages young girls by presenting a colorful variety of choices for their future careers. Talented illustrator Jessie Ford artfully pairs the letters of the alphabet with vibrant, eye-catching illustrations that paint an inspiring picture for budding trailblazers everywhere.ABC What Can She Be? explores 26 different career paths. Each page introduces a letter of the alphabet with bright artwork and highlights a career that is fun, challenging, and makes a big impact in its own way. A boldly illustrated, fun family read, ABC What Can She Be? is a great way for parents to introduce their small children to the bright futures before them. ...Show more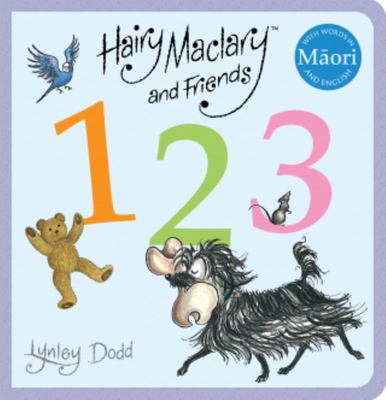 $12.99
NZD
Category: Board Books
A boisterous bilingual board book that introduces littlies to counting with the help of Hairy Maclary and his friends! A gorgeous board book with pictures of Hairy Maclary, Scarface Claw and other favourite characters created by Lynley Dodd to help children learn to count from 1-10 in Maori and English . This special little volume is perfect for the young number learner and helps to incorporate te reo Maori into everyday life. Contains a full 1-10 counting chart. www.hairymaclary.com ...Show more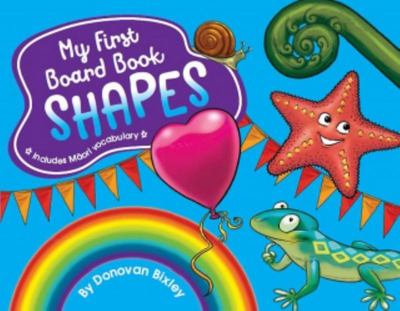 $16.99
NZD
Category: Board Books | Series: My First Board Book
A wonderfully illustrated Donovan Bixley board book for learning animal names in both English and Maori. Including the circle (porowhita), diamond (taimana) and stars (whetu). Perfect for Kiwi kids.
$16.99
NZD
Category: Board Books | Series: My First Board Book
The iconic Kiwi song, Ma is White, is given the Donovan Bixley treatment and made into a wonderful first board book. The book also includes additional colours not covered in the song, so readers can can expand their Maori vocabulary.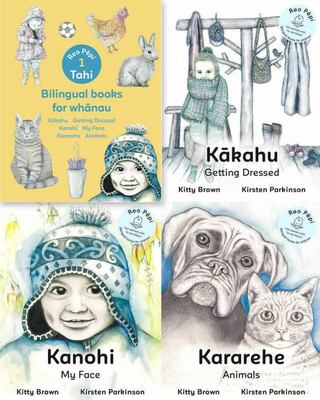 $49.99
NZD
Category: Board Books | Series: Reo Pepi
Reo Pēpi Series 1 is aimed at 0-5 year olds and their whānau. Find simple, repetitive sentences you will use in everyday situations and plenty of new kupu for your vocabulary. The carefully rendered illustrations are created with aroha and will be a delight for all readers. Box set contains Kākahu: Gett ing Dressed, Kararehe: Animals, and Kanohi: My Face. ...Show more