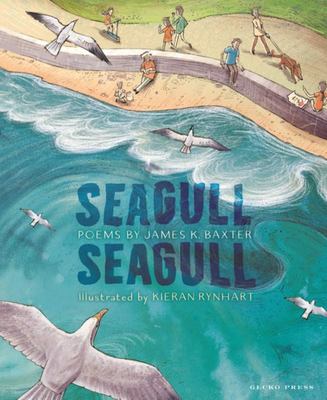 $29.99
NZD
Category: Children's Poetry
A new gift edition of James K Baxter's classic poems for children, illustrated by Kieran Rynhart. The poems in Seagull Seagull are light and easy read-alouds for classrooms or with toddlers-on-the-couch. James K Baxter wrote these poems when he was teaching in Lower Hutt in the 1950s. Successful in the classroom, they have been regularly reprinted in anthologies and collections and remain popular for their accessible rhythms, humour, and quintessentially New Zealand settings. This new gift edition of Baxter's poems is illustrated by Kieran Rynhart in dramatic spreads and beautifully drawn details. ...Show more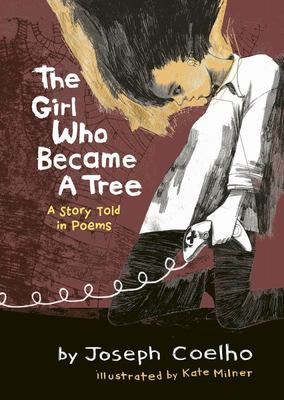 $32.99
NZD
Category: Children's Poetry
Daphne is unbearably sad and adrift. She feels the painful loss of her father acutely and seeks solace both in the security of her local library and the escape her phone screen provides by blocking out the world around her. As Daphne tries to make sense of what has happened she recalls memories of share d times and stories past, and in facing the darkness she finds a way back from the tangle of fear and confusion, to feel connected once more with her friends and family. The Girl Who Became a Tree sees Joseph Coelho deploy a wide variety of poetic forms with consummate skill in its narration of events. He seamlessly but searingly weaves together the ancient legend of Daphne, who was turned into a tree to avoid the attentions of the god Apollo, and a totally modern tale, mixing real-life and fantasy, in which a latter-day Daphne seeks her own freedom. This a heart-stoppingly imaginative story told in poems, at times bleak and even tragic, which is layered, rich and ultimately a tour de force of poetic skill and energy ...Show more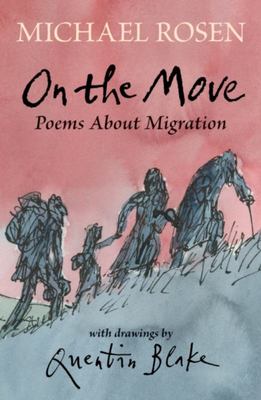 $27.99
NZD
Category: Children's Poetry
Former Children's Laureates Michael Rosen and Sir Quentin Blake join forces for a personal and uniquely affecting collection of poems about migration. "What you leave behind Won't leave your mind. But home is where you find it. Home is where you find it." Michael Rosen and Sir Quentin Blake join forces for a landmark new collection, focusing on migration and displacement. Michael's poems are divided into four: in the first series, he draws on his childhood as part of a first-generation Polish family living in London; in the second, on his perception of the War as a young boy; in the third, on his "missing" relatives and the Holocaust; and in the fourth, and final, on global experiences of migration. By turns charming, shocking and heart-breaking, this is an anthology with a story to tell and a powerful point to make: "You can only do something now." ...Show more
Poems of Childhood
by Gaby Morgan (Contribution by); Michael Morpurgo (Introduction by)
$14.99
NZD
Category: Children's Poetry | Series: Macmillan Collector's Library
A child's life should be full of poems, rhymes and songs, and Poems of Childhood is a celebration of that. Part of the Macmillan Collector's Library, a series of stunning, clothbound, pocket-sized classics with gold-foiled edges and ribbon markers. These beautiful books make perfect gifts or a treat for any book lover. This edition features an introduction by acclaimed children's writer, Michael Morpurgo.Poems of Childhood combines the best of classic children's poetry into one anthology featuring a rich range of themes - from animals to nursery rhymes, from nonsense poems to magic. Many favourites are here, including 'The Owl and the Pussy-Cat', 'Jabberwocky' and 'The Tyger'. This delightful collection is the perfect gift for children and a chance for adults to revisit their favourite verse from the likes of Edward Lear, Lewis Carroll and Kenneth Grahame. ...Show more
$22.99
NZD
Category: Children's Poetry | Series: Write Your Own
Whether you want to dash off a limerick, ponder a sonnet or plot an epic poem, this write-in activity book is here to help. Each page is bursting with tips and inspiration for writing all kinds of poems - and inventing brand new styles too. With links to websites where you can listen to the poems in thi s book, and find more helpful writing tips. A write-in book filled with a wide range of poetry writing activities, tips and advice to inspire a new generation of young poets. Aims to make poetry accessible and exciting for beginners ...Show more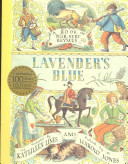 $37.99
NZD
Category: Children's Poetry
This is a definitive collection of nursery rhymes, beautifully designed and illustrated by the influential artist, Harold Jones. This facsimile edition has been lovingly produced to recreate the look and feel of the first printing of this much-loved book, which was originally published in 1954.
$55.00
NZD
Category: Children's Poetry | Series: Poetry Collections
A breathtaking anthology featuring an animal poem for every day of the year illustated by award-winning artist, Britta Teckentrup. This lavishly illustrated gift book treasury of 366 animal poems ranges from unforgettable classics to contemporary works from around the world, including poetry in transla tion. The spectacular range of poems for children includes work by Roger McGough, William Blake, Dick King-Smith, Ted Hughes, Grace Nichols, Lewis Carroll, Christina Rossetti, Emily Dickinson. Britta Teckentrup's breathtaking illustrations bring together all the richness and wonder of the animal kingdom, making this poetry anthology a perfect gift that will be treasured by generations. With sumptuous finishes including cloth binding, full colour illustrations throughout, textured paper jacket, ribbon marker, and head and tail bands. ...Show more
My First Book of Haiku Poems
by Esperanza Ramirez-Christensen; Tracy Gallup (Illustrator)
$27.99
NZD
Category: Children's Poetry
My First Book of Haiku Poems introduces children to inspirational works of poetry and art that speak of our connection to the natural world, and that enhance their own natural ability to see an entire universe in the tiniest parts of it. Each of these 20 classic poems by Issa, Shiki, Basho, and other gr eat haiku masters is paired with a stunning original painting that both portrays and inspires a child's inner life, and opens a door to the world of their imagination. A fully bilingual children's book, My First Book of Haiku Poems includes the original versions of the Japanese poems (in Japanese script and Romanized form) on each page alongside the English translation to form a complete cultural experience. Each haiku poem is accompanied by a "dreamscape" painting by award-winning artist Tracy Gallup that will be admired by children and adults alike. Commentaries offer parents and teachers ready-made "food for thought" to share with young readers and stimulate a conversation about each work. ...Show more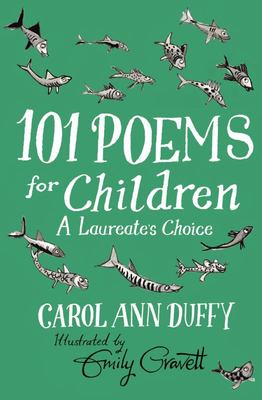 $22.99
NZD
Category: Children's Poetry
101 Poems for Children: A Laureate's Choice is a stunning collection of classic and modern verse chosen by the 2009-2019 Poet Laureate, Carol Ann Duffy. Full of gorgeous black and white artwork from the multi-award-winning illustrator Emily Gravett, this book is a delight for children of all ages and is a pleasure to read aloud for everyone in the family to enjoy. This fantastic collection is the perfect introduction to poetry for children, featuring a range of poems both new and familiar and packed with delights to return to again and again. Classic poems such as 'The Owl and the Pussycat' by Edward Lear and Lewis Carroll's 'Jabberwocky' feature alongside contemporary verse, such as Edwin Morgan's 'The Loch Ness Monster's Song' and 'Balloons' by Sylvia Plath. With a gorgeous cloth-bound cover, this beautiful hardback edition is published to celebrate the end of Duffy's Laureateship and is the perfect gift for any young poetry lover, or any child yet to discover its delights. ...Show more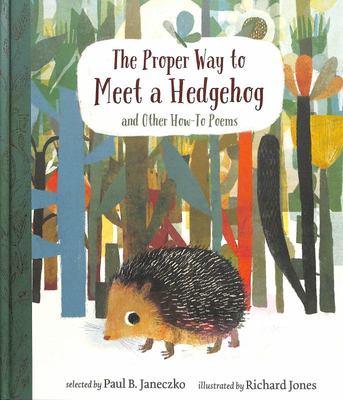 $27.99
NZD
Category: Children's Poetry
Toast a marshmallow, be a tree in winter, read braille -- Paul B. Janeczko and Richard Jones invite you to enjoy an assortment of poems that inform and inspire. Today I walked outside and spied  a hedgehog on the hill. When she and I met eye to eye, she raised up straight and still. Be they practica l (how to mix a pancake or how to bird-watch) or fanciful (how to scare monsters or how to be a snowflake), the poems in this book boast a flair and joy that you won't find in any instruction manual. Poets from Kwame Alexander to Pat Mora to Allan Wolf share the way to play hard, to love nature, and to be grateful. Soft, evocative illustrations will encourage readers to look at the world with an eye to its countless possibilities.   Contributors include:   Kwame AlexanderCalef BrownRebecca Kai DotlichMargarita EngleRalph FletcherDouglas FlorianHelen FrostMartin GardnerCharles GhignaNikki GrimesAnna E. JordanKarla KuskinIrene LathamJ. Patrick LewisMarjorie MaddoxElaine MagliaroPat MoraChristina RossettiMonica ShannonMarilyn SingerRobert Louis StevensonCharles WatersApril Halprin WaylandSteven WithrowAllan Wolf ...Show more
$22.99
NZD
Category: Children's Poetry
All the richness of the wild is seen through the poet's eye. Here are poems from Hawk in the Rain, Wodwo, Wolfwatching, Lupercal and River as well as from Adam and the Sacred Nine, their juxtaposition highlighting the variety of the natural world and of Hughes's poetry about it.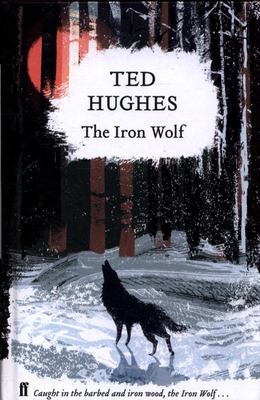 $22.99
NZD
Category: Children's Poetry
The Iron Wolf, the Iron Wolf Stands on the world with jagged fur. The rusty Moon rolls through the sky. The iron river cannot stir. The iron wind leaks out a cry Animals of air, land and sea are brilliantly imagined in this perfect introduction for young readers to the work of Ted Hughes. Part of Hugh es's Collected Animal Poems, The Iron Wolf is for the youngest readers, both to listen to and explore themselves. Chris Riddell's delightful line illustrations add to the journey of discovery. ...Show more