Wine Science : The Application Of Science In Winemaking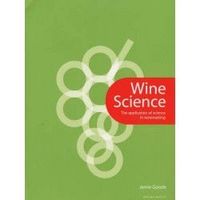 Stock information
: $125

.00

(NZD)

: 9781840009682
: octmbz; octopu
: octmbz; octopu
:
:
: October 2005
: 260mm X 194mm
: United Kingdom
: 105.0
:
:
:
: books
:
:
:
:
:
:
: illustrations
:
: 256
: Jamie Goode
:
: 663.2
:
:
:
: Hardback
: Mitchell Beazley Drink S.
9781840009682
Description
This revolutionary book is the only indepth reference to detail the processes, developments, and factors affecting the science of winemaking. Jamie Goode, a highly recognized expert on the subject, skillfully opens up this complex subject and explains the background of the various processes involved and the range of issues surrounding their uses. He reports on the vital progress in winemaking research that has been made in the last decade and explains the practical application of science with reference to the range of winemaking techniques used around the world, as well as viticultural practices, organics and ecology, and lifestyle influences. Written in a uniquely accessible style, the book is divided into three sections covering the vineyard, the winery, and human interaction with wine. It also features over 100 illustrations and photographs to help make even the most complex topics clear, straightforward, and easy to understand.


First published October 2005.
Author description
Jamie Goode has a PhD in plant biology and has worked as a scientific editor for over twelve years. In 2000, he established the consumer-oriented wine website www .wineanorak.com which is one of the world's most visited wine sites and was nominated for the 2004 Prix du Champagne Lanson. He is a member of the UK Circle of Wine Writers, and is wine columnist with The Western Mail as well as a regular contributor to Harpers, Decanter, and Wine International. He lives in London.
Table of contents
Introduction; Why wine science? Section 1: In The Vineyard; 1 Grapevine physiology; 2 Terroir: a taste of the soil? 3 Precision viticulture: using aerial and satellite monitoring to target interventions; 4 Global climate change and its implications for viticulture; 5 Genetically modified (GM) grape vines; 6 Phylloxera: how science saved wine; 7 Lutte raisonee: and integrated pest management (IPM); 8 Biodynamic viticulture; 9 Partial root zone drying: and regulated deficit irrigation (RDI); 10 Trellising systems: and canopy management; Section 2: In The Winery; 11 Barrels: and barrel substitutes; 12 Micro-oxygenation; 13 Naturalness in wine: how much manipulation is acceptable; 14 Yeasts: and wild-yeast fermentations; 15 Brettanomyces; 16 Reverse osmosis, spinning cones, and evaporators: alcohol reduction and must concentration; 17 Sulphur dioxide; 18 Reduction: volatile sulphur compounds in wine; 19 Closures: the cork taint debate; Section 3: Our Interaction With Wine; 20 Flavour: and its perception; 21 Wine and the brain; 22 Wine flavour chemistry; 23 Wine and health: is it good for you? 24 Extending lifespan by drinking wine: the holy grail; 25 Wine "allergies" 26 Summing-up; Bibliography & further reading; Subject index