A History Of China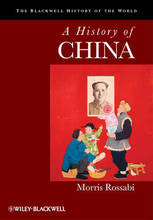 Stock information
: $44

.99

(NZD)

: 9781577181132
: John Wiley and Sons Ltd
: Wiley-Blackwell (an imprint of John Wiley & Sons Ltd)
:
:
: July 2012
: 246mm X 171mm
: United Kingdom
: 44.99
: September 2013
:
:
: books
:
:
: Morris Rossabi
: Blackwell History of the World
: Paperback
:
:
:
: 951
:
:
: 456
:
: 10 maps; 20 plates
:
:
9781577181132
Description
This is a comprehensive overview of four thousand years of Chinese history from earliest times up to the present day. China, the third-largest and most populous country in the world, is shown in all its magnitude and diversity through an authoritative and wide-ranging account of the evolution of Chinese cultures, peoples and society. The book will be welcomed by scholars and non-specialist readers alike.
Author description
Morris Rossabi is Distinguished Professor of History at City University of New York and Adjunct Professor at Columbia University. Born in Alexandria, Egypt, he received a Ph.D. in Chinese and Central Asian History at Columbia University. He is the author of many books on Asian history, including Modern Mongolia: From Khans to Commissars to Capitalists (2005), Khubilai Khan: His Life and Times (1988 and 2009), and Voyager from Xanadu: Rabban Sauma and the First Journey from China to the West (1992). Formerly Chair of the Arts and Cultures Board of the Open Society Institute, he has collaborated on exhibitions at the Metropolitan Museum of Art and the Cleveland Museum of Art.
Table of contents
Series Editor's Preface xi Preface xv Acknowledgments xix List of Illustrations xxi List of Maps xxv A Note on Romanization xxvi PART I CHINA AMONG "BARBARIANS" 1 1 Early History, to 1027 bce 3 Land and Settlement 3 Early Mankind 5 Agricultural Revolution in the Neolithic Era 6 Xia: The First Dynasty? 12 The Shang and the Origins of Chinese Civilization 16 Oracle Bones 17 Ritual Objects as Historical Sources 19 Shang Society 21 Notes 23 Further Reading 24 2 Classical China, 1027--256 bce 25 "Feudalism"? 25 Changes in Social Structure 31 Political Instability in the Eastern Zhou 31 Transformations in the Economy 35 Hundred Schools of Thought 36 Daoism 38 Popular Religions 41 Confucianism 42 Mohism 48 Legalism 50 Book of Odes and Book of Documents 53 Secularization of Arts 56 Notes 57 Further Reading 57 3 The First Chinese Empires, 221 bce--220 ce 59 Development of the Qin State 61 Qin Achievements 63 Failures of the Qin 66 Han and New Institutions 70 Han Foreign Relations 73 Emperor Wu's Domestic Policies and Their Ramifications 78 Wang Mang: Reformer or Usurper? 81 Restoration of a Weaker Han Dynasty 82 Spiritual and Philosophical Developments in the Han 86 Han Literature and Art 89 Further Reading 96 4 Chaos and Religious and Political Responses, 220--581 97 Three Kingdoms 97 Rise of South China 100 Foreigners and North China 102 Northern Wei 104 Spiritual Developments, Post-Han 109 Buddhism Enters China 110 Literature, Science, and the Arts in a Period of Division 116 Notes 121 Further Reading 121 PART II CHINA AMONG EQUALS 123 5 Restoration of Empire under Sui and Tang, 581--907 125 Sui: First Step in Restoration 127 Disastrous Foreign Campaigns 132 Origins of the Tang 133 Taizong: The Greatest Tang Emperor 135 Tang Expansionism 137 Irregular Successions and the Empress Wu 139 Tang Cosmopolitanism 142 Arrival of Foreign Religions 144 Glorious Tang Arts 151 Decline of the Tang 153 Tang Faces Rebellions 157 Uyghur Empire and Tang 158 Tang's Continuing Decline 160 Suppression of Buddhism 162 Final Collapse 164 Efflorescence of Tang Culture 166 Notes 171 Further Reading 171 6 Post-Tang Society and the Glorious Song, 907--1279 173 Five Dynasties and Ten Kingdoms 173 Song: A Lesser Empire 177 A New Song Elite 179 Neo-Confucianism: A New Philosophy 182 Attempts at Reform 183 Women and the Song 188 The Khitans and the Liao Dynasty 190 Expansion of Khitan Territory 192 Preservation of Khitan Identity 192 Fall of the Liao 194 Xia and Jin: Two Foreign Dynasties 195 Song Arts 197 Southern Song Economic and Cultural Sophistication and Political Instability 202 Notes 206 Further Reading 206 PART III CHINA AND THE MONGOL WORLD 209 7 Mongol Rule in China, 1234--1368 211 Rise of Chinggis Khan 213 Legacy of Chinggis Khan 215 Expansion and Early Rule of Empire 215 Sorghaghtani Beki, Mongke, and Khubilai 217 Unification of China 218 Khubilai's Policies 219 Multiethnic and Multireligious China 220 Khubilai and Chinese Culture 222 Decline of the Yuan 226 Legacy of the Mongols 229 Notes 231 Further Reading 231 8 Ming: Isolationism and Involvement in the World, 1368--1644 233 A More Powerful State 236 Opening to the Outside World 240 A Costly Failure 244 Conspicuous Consumption 245 Arts in the Ming 246 Neo-Confucianism: School of the Mind 251 A Few Unorthodox Thinkers 253 Ming Literature 254 Buddhism: New Developments 258 Social Development and Material Culture 259 Violence in the Sixteenth Century 261 Fall of the Ming Dynasty 263 Further Reading 267 PART IV CHINA IN GLOBAL HISTORY 269 9 Early Qing: A Manchu Dynasty, 1644--1860 271 Preserving Manchu Identity 275 Kangxi and the Height of the Qing 275 Western Arrival 276 Jesuits in China 278 Expansion of China 280 Qing Cultural Developments 284 Qing Faces Economic Problems 287 Stirrings of Discontent 289 The Western Challenge 290 Opium Wars 293 Explanations for the Decline of the Qing 298 Further Reading 299 10 Late Qing, 1860--1911 301 Nian and Other Minor Rebellions 302 Taiping Rebellion 303 Other Rebellions 307 Foreign Threats 311 Differing Court Responses to Challenges 313 Antiforeign Acts and Foreign Reactions 317 Losses in Southwest China 319 Japan Emerges 320 Sino--Japanese Conflict 321 Scramble for Concessions and US Response 323 China Humiliated and the Reformers 324 Boxer Movement 326 Court Reforms 329 Fall of the Qing 331 Notes 332 Further Reading 332 11 The Republican Period, 1911--1949 333 The 1911 Revolution and Its Aftermath 335 Warlords in Power 337 The May Fourth Movement and Intellectuals in the Post-First World War Period 340 Communist Party 343 Rise of Chiang Kai-shek 346 Guomindang Dominance 349 Communist Party Revival 354 Long March and Aftermath 356 The Sino--Japanese War 358 The Pacific War, the Communists, and the Guomindang 361 Civil War in China 364 Further Reading 366 12 The Communist Era in China, 1949 Onwards 369 Early Pacification of Border Areas 371 Early Foreign Relations 374 Recovery from Wars 376 Cracks in the Communist World 380 Great Leap Forward 382 Return to Pragmatism 385 An Isolated China 386 Great Proletarian Cultural Revolution 387 China Reopens Its Doors 390 Dramatic Changes and Modernization 395 Tiananmen Disturbance of 1989 and Its Aftermath 398 The Present Status of China 403 Further Reading 412 Index 413