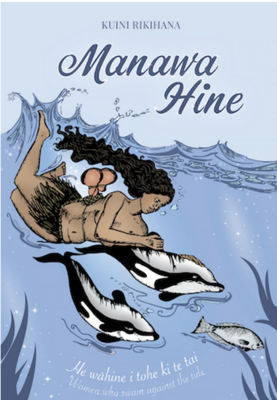 $39.99
NZD
Category: Children's Maori Books
From Kuini Rikihana, author of Illustrated Māori Myths and Legends, comes Manawa Hine, a collection of adventure-packed stories celebrating the feats of fearless Māori women within the domain of Hinemoana.Kahe Te Rau o te Rangi swims a treacherous channel in the dark of night to save her people, with he r baby on her back.Hinepoupou, left for dead by her abusive husband, sets out on a long-distance swim home accompanied by her dolphin ancestors and fuelled by thoughts of revenge.Hūria Mātenga battles through raging seas to rescue sailors from a sinking ship.Pānia of the Moana turns the tables on her husband, refusing to let him control her.Through Kuini Rikihana's creative re-telling of these women's stories, we learn what is possible with a healthy measure of self-belief and the unwavering conviction that we are never acting alone ...Show more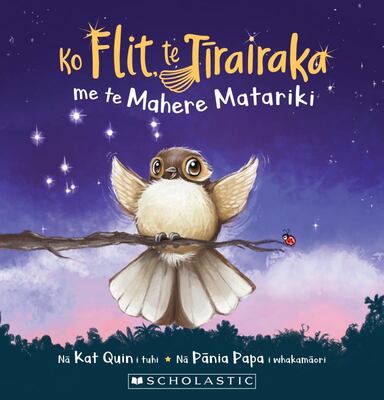 $19.99
NZD
Category: Children's Maori Books | Series: Flit the Fantail
Join Flit the fantail and his forest friends on a nighttime adventure, this time to capture a star shining brightly on the horizon. It is one of a cluster of nine stars and Flit is determined to explore! But when he gets lost, wise Ruru swoops down and Flit learns about Matariki stars and navigation. ...Show more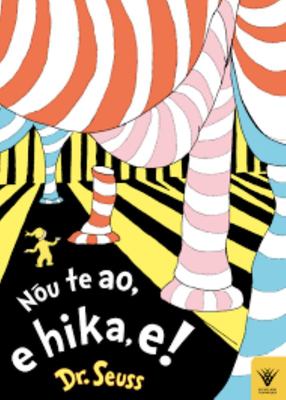 $29.99
NZD
Category: Children's Maori Books
He whakamāori i tā Dr. Seuss pakiwaitara rongonui, Oh, the Places You'll Go! 'Me mihi ka tika, te toa o te rā! Tūrou, Hawaiki! Tō pai! Wehi nā!' Topa mai, taka mai, ko ngā piki me ngā heke o te ao o te tangata te aronga nui o tēnei kōrero reka nā te mātanga, nā Dr. Seuss. He kupu akiaki kei roto e mauma hara ai te tangata ki ōna painga, e mataara ai ki ngā uauatanga, me te toro mātātoa atu ki te ao e tāwhiri mai ana. 'He koi koe ā-runga. He kama ā-raro. He kākano koe e kore e ngaro.' I Nōu te Ao, e Hika e!, kua mau i a Karena Kelly te paki, te toi, te taki me te koi o Seuss, e mōhio whānuitia ana, i tana tārai i te kupu hei reo Māori mō te pakiwaitara rongonui nei. A Māori language translation of Dr. Seuss's classic for young and old, Oh, the Places You'll Go!  'Congratulations! Today is your day. You're off to Great Places! You're off and away!' From soaring high-flyers to lurches and slumps, Dr. Seuss's wonderfully wise Oh, the Places You'll Go! speaks to the ups and downs of life. It encourages us all to remember our strengths, recognise the challenges, and grab life with both hands. 'You have brains in your head. You have feet in your shoes. You can steer yourself any direction you choose.' In Nōu te Ao, e Hika e!, Karena Kelly brilliantly captures Seuss's verbal wit and wisdom, and his trademark rhythm and rhyme, while finding this great story its Māori voice. ...Show more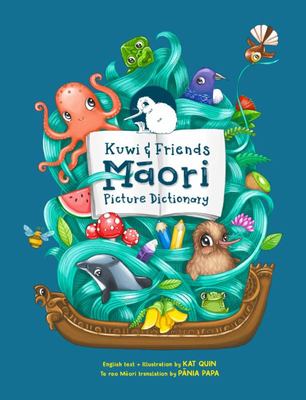 $34.99
NZD
Category: Children's Maori Books
Beginners Māori Language Picture Dictionary, for the Whole Family. From the #1 bestselling and award-winning author and illustrator of the Kuwi the Kiwi series, Kat Quin, comes a large scale, stunningly illustrated visual dictionary. Full of over 1000 basic words in te reo Māori and English, perfect fo r every New Zealander.  A fun, easy-to-use resource for those wanting to discover, learn and use everyday words in te reo Maori. The illustrations are designed to help with comprehension, particularly for younger learners. Visual cues can assist with retention of language, to recall spoken and written words.  68 fully illustrated pages, in a large format (265 x 366mm), in vibrant full colour, with over 1000 te reo Maori words, translated into English. Embedded with gorgeous Kuwi the kiwi (and friends) illustrations.  Designed for everyday use, in the whanau (family), kura (school) and for all New Zealanders. Ages 0-100+. A portion of each sale goes to charity Kiwis for Kiwi. ...Show more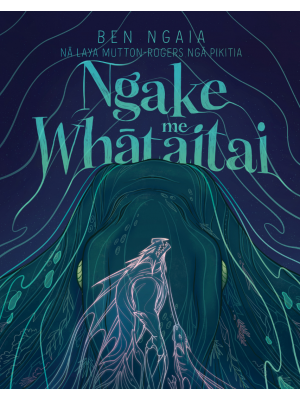 $20.00
NZD
Category: Children's Maori Books
This is a traditional story told in te reo Māori from the perspective of the Kāhui Maunga people about Ngake and Whātaitai. These two taniwha inhabited Te Whanganui-a-Tara, Wellington Harbour, long before the ancestral migrations. The story tells how the shape and landscape of Wellington, its harbour a nd the Lower Hutt area came about because of the actions of Ngake and Whātaitai. Long ago, Te Whanganui a Tara was an enclosed lake, but Ngake forced his way out into the sea by battering through the clenched teeth of the fish of Māui to allow the fish to breathe. Whātaitai was washed down the throat of the fish, causing it to cough, and Whātaitai and three morsels flew out. The morsels became islands in the harbour, but Whātaitai was stranded and grew weak and died, becoming part of the land around the harbour. ...Show more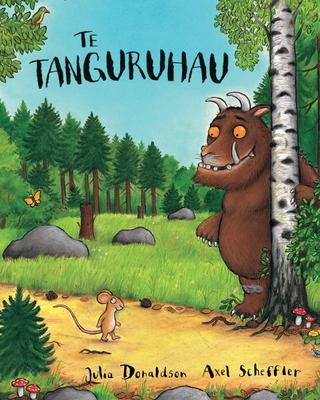 $20.00
NZD
Category: Children's Maori Books
The Maori language version of the children's picture book, The Gruffalo. A clever mouse uses the threat of a terrifying creature to keep from being eaten by a fox, an owl, and a snake, only to have to outwit that creature as well. Suggested level: junior, primary.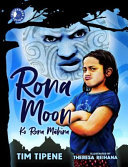 $25.99
NZD
Category: Children's Maori Books
'Everything looks so small from up here,' said Rona. 'I know,' Whaea beamed. 'Even the reasons we felt angry seem so little.' The beloved myth of Rona and the Moon comes to 21st-century Aotearoa in English and Maori in Tim Tipene's sensitive interpretation, strikingly illustrated by Tai Tokerau artist T heresa Reihana. Rona Moon gets angry with everyone, her brother, her nana and papa, and then one night she calls the moon stupid! Taken to meet her ancestor Whaea Rona on the moon, she learns a lesson in how to control her temper. ...Show more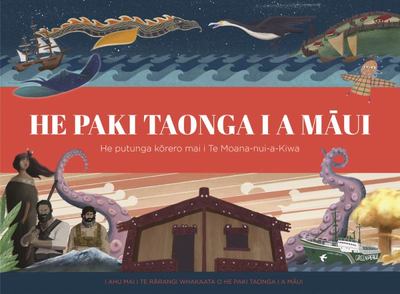 $29.99
NZD
Category: Children's Maori Books | Series: Maui's Taonga Tales
Fully written in te reo Māori and aimed at children aged seven to eleven, this book's lively stories tell the tales of some of the taonga held at Aotearoa New Zealand's famous national museum, Te Papa, through appealing text and fantastic illustrations. The book's pūkōrero, or story teller, is Māui, the great Pacific hero and trickster. The stories are from both long ago and recent times and have been chosen in consultation with Te Papa's mātauranga Māori curators and the relevant iwi. They range from how Ruhia's kaitaka, or cloak, saved the life of a young boy and why the band Herbs wrote a song about nuclear testing in the Pacific to Huria Matenga and the Shipwreck, Rata and the Children of Tane, Willie Apiata and the Tough Decision, Hinemoa and Tutanekai, Te Paea and the Ghost Waka, Kahe's Epic Swim, Heni and the Battle of Gate Pa, Kupe and the Giant Wheke, and Tane and the Kete of Knowledge. Each story is told via illustrations created by young Māori artists; some have illustrated stories from their own iwi. The book is linked to the TV series He Paki Taonga i a Māui, funded by Te Mangai Paho. Also avaiable in English as Maui's Taonga Tales ...Show more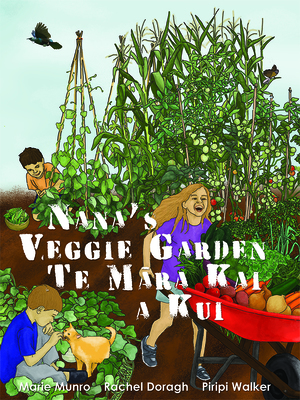 $25.00
NZD
Category: Children's Maori Books
New Zealand has the world's best summers and the magic of being a kid is still alive in kiwi backyards. This summer, Jacob, Max, Bella and Lucas help Nana grow an amazing summer garden, filling each and every day with lots of new learning and bunches of awesome memories Nana's garden it grows, and it gr ows from the tiny wee seeds, she plants in neat rows. Kei te tupu haere te mara a Kui, kei te tupu, kei te tupu he kakano iti i ruia mai, he rarangi, he momo, he rarangi, he momo Piripi Walker's translation has kept the words simple and clear, so the rhythm is right, and each sentece flows when delivered aloud. Rachel Doragh's dynamic illustrations incorporate related Maori words and phrases and bring the story to life in an authentic kiwi vegetable garden. ...Show more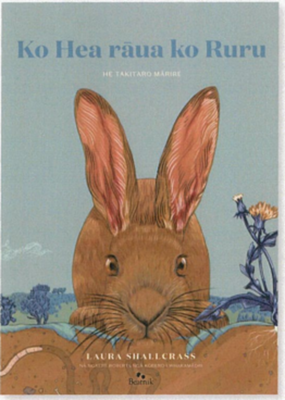 $30.00
NZD
Category: Children's Maori Books
The te reo Maori edition of Hare, who struggles with an un-named mental malady self described as 'noise'. Noise could be runaway thoughts, voices in Hare's head, or loud feelings and general anxiety. Hare goes on a journey to try and find a solution. Just when Hare thinks there's no hope a friend, Ruru, flies calmly down and gives a suggestion. ...Show more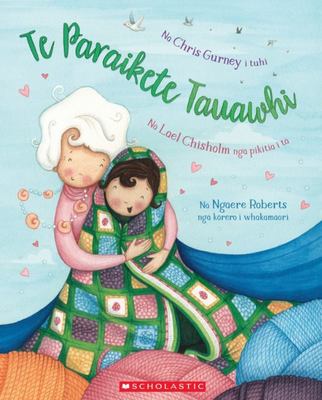 $19.99
NZD
Category: Children's Maori Books
It smells like sunshine. It sounds like whispers. It looks like rainbows...It feels like love. Nana made hug blankets for all her family. Each one was special. We love our Nana. "A joyful story of whānau, love and loss, but above all else, love"
$25.99
NZD
Category: Children's Maori Books
One night in June 2016, Massey University language lecturer Darryn Joseph sat in a hospital room minding a teacher who had become a dear friend and mentor to him. Darryn wrote her a poem of appreciation, kissed her hand and said goodbye; the next day she passed away. That poem is contained in Whakarongo ki ō Tūpuna/Listen to your Ancestors, which is written in te Reo Māori with English translation. The story follows a beloved teacher giving her pupils and grand-daughter guidance by directing them to follow the examples of Māori gods and ancestors. The book is illustrated by emerging artist Munro Te Whata, who has vividly brought to life settings in a school, the outdoors and a rest home in a colourful and fun style. Whakarongo ki ō Tūpuna teaches the values represented by Māori gods and ancestors, and provides a much-needed tool for reading in te Reo. And at its heart this is a story of love and respect, harking back to the friendship that inspired its writing. ...Show more