$24.99
NZD
Category: Self Improvement | Reading Level: very good
A book for anyone and everyone who finds themselves going through big change, hard times, bad luck or tough sh it. A book for right now, as it turns out. From Bev Aisbett, Australia's bestselling author with decades of experience helping people through anxiety, depression and panic attacks, Cruising Thr ough Calamity is a much-needed new book about helping people manage their emotions through big changes, hard times and big challenges. So whether you're struggling during the pandemic or navigating a personal crisis, if you're feeling anxious or overwhelmed and your emotions are getting the better of you, then this is the book you need right now to help you cruise through calamities, big and small. Written in Bev's clear, simple and straightforward style, using straight talk and humour to defuse, entertain, explain and inform, this is a most timely and topical book to help anyone feeling overwhelmed by uncertainty, difficult feelings and tough circumstances.   ...Show more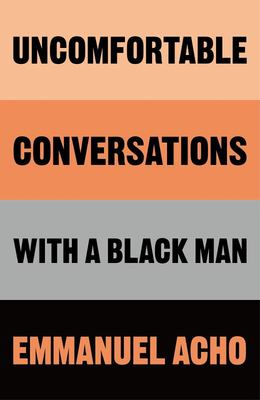 $39.99
NZD
Category: Psychology / Sociology:
An urgent primer on race and racism, from the host of the viral hit video series Uncomfortable Conversations with a Black Man" "You cannot fix a problem you do not know you have." So begins Emmanuel Acho in his essential guide to the truths Americans need to know to address the systemic racism that has recently electrified protests in all fifty states. "There is a fix," Acho says. "But in order to access it, we're going to have to have some uncomfortable conversations." In Uncomfortable Conversations With a Black Man, Acho takes on all the questions, large and small, insensitive and taboo, many white Americans are afraid to ask - yet which all Americans need the answers to, now more than ever. With the same open-hearted generosity that has made his video series a phenomenon, Acho explains the vital core of such fraught concepts as white privilege, cultural appropriation, and "reverse racism." In his own words, he provides a space of compassion and understanding in a discussion that can lack both. He asksonly for the reader's curiosity - but along the way, he will galvanize all of us to join the antiracist fight. " ...Show more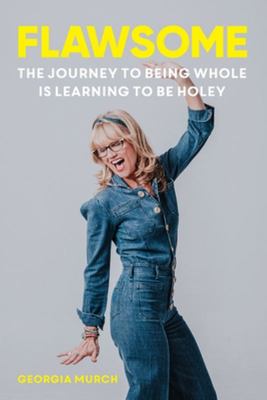 $34.99
NZD
Category: Self Improvement
You are not called an accountant, or a speaker, or a writer. You are called by a name - your name. You are you. To know what that means and who you are requires work. Just like growing into a new pair of sneakers, you need to grow into who you really are. To do this, you have to accept your flaws. To ma ke peace with your humanity you need to drop your search for perfection, to be OK with being enough - flaws and all. To ultimately find that your flaws can become your super powers. This is a fabulous place to be and so much easier to reach than you might think.   In this fascinating book, author and feedback expert, Georgia Murch, teaches you that being flawsome is not just about accepting your flaws, your inadequacies, the things you hide - it's understanding where they come from and rewriting how you see yourself, so you can live as you are. It's not just about making peace with your shortcomings and imperfections but knowing that without them you are not you. Your flaws make you, you. Specifically, Flawsome helps you:   -Become more self-aware of how you impact yourself and others in the everyday moments -Identify the things that triggers you and hold you back from learning and growing -How to search for the what is really true and not get caught in rumination -How to hold the space to evolve as a person and know it's in the small moments.   This book is for those who would like to stop being good enough for others, and start being themselves.   ...Show more
$32.99
NZD
Category: Self Improvement
Busy minds need a place to rest. Whether you find yourself struggling to sleep, awake in the middle of the night, or even just anxious as you move through the day, in Nothing Much Happens, Kathryn Nicolai offers a healthy way to ease the mind before bed: through the timeless appeal of classic bedtime st ories. Already beloved by millions of podcast listeners, the stories in Nothing Much Happens explore and expose small sweet moments of joy and relaxation: Visiting the local cider mill in the autumn. Watching the tree lighting in the park with friends in the winter. Sneaking lilacs from an abandoned farm in the spring. Watching fireflies from the deck in the summer. Closing up the book shop for the night and opening the bakery in the morning. You'll also find sixteen new stories never before featured on the podcast, along with whimsical illustrations that expose sweet little moments of peace and joy. Using her decades of experience as a meditation and yoga teacher, Kathryn Nicolai creates a world for you to slip into, one rich in sensory experience that quietly teaches mindfulness and self-compassion, soothes frayed nerves, and builds solid habits for nurturing sleep.   ...Show more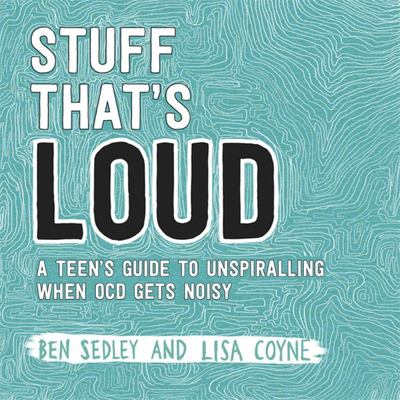 $29.99
NZD
Category: Psychology / Sociology:
Do you have thoughts that seem loud? Do your worries spiral out of control and then suck you in? Do intrusive thoughts show up and make you scared of doing certain things - or not doing things - a certain way? Do you ever get a feeling like something bad might happen? Does this loud stuff make you feel alone, or worse, crazy? First, you aren't alone - even if it sometimes feels that way. And second, you are not crazy. But you might be struggling with obsessive compulsive disorder (OCD). And while OCD can be difficult, you don't have to let it have power over you. Instead, you can live a life full of meaning, great relationships and joy with the help of this book. In Stuff That's Loud, you'll learn Exposure and Response Prevention (ERP) and ideas from Acceptance and Commitment Therapy (ACT) to help you break free from loud, spiralling OCD thoughts and behaviours: - You'll learn to be curious about the world around you - You'll use willingness to step forwards boldly - You'll develop flexibility skills to practice everywhere and everywhen - You'll focus on living a life that you give a $#@! about Life doesn't have to stay stuck any longer. ...Show more
$32.99
NZD
Category: Psychology / Sociology:
In this repackaged paperback - rebranded with a new "themed series look" - a bestselling author shows how we can make peace with the "shadow" side of our personality.
$24.99
NZD
Category: Mind/Body/Spirit
Written in an accessible and humorous style, this book teaches you to know what's going on in your mind and how to get your feelings under control. It'll help you adapt and feel better about your place in the world. Psychologist Gwendoline Smith uses her broad scientific knowledge and experience to expl ain in clear and simple language what's happening when you are feeling overwhelmed, anxious and confused. ...Show more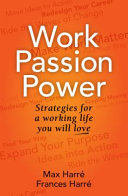 $34.99
NZD
Category: Self Improvement
Today's work and career patterns are being disrupted with various threats. This book explains: How to thrive in work in spite of rapid change. Decision-making strategies for long-term success. Mindset tools for challenges in career development. Practical steps for making your career matter to you and fu ture-proofing your career with passion. ...Show more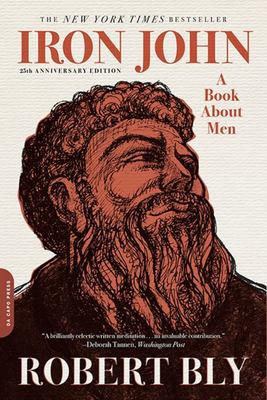 $47.00
NZD
Category: Psychology / Sociology: | Reading Level: General Adult
The 25th anniversary edition of the groundbreaking New York Times bestseller, with a new afterword by the author--which offers a new vision of what it is to be a manIn this timeless and deeply learned classic, poet and translator Robert Bly offers nothing less than a new vision of what it means to be a man.   Bly's vision is based on his ongoing work with men, as well as on reflections on his own life. He addresses the devastating effects of remote fathers and mourns the disappearance of male initiation rites in our culture. Finding rich meaning in ancient stories and legends, Bly uses the Grimm fairy tale "Iron John"-in which a mentor or "Wild Man" guides a young man through eight stages of male growth-to remind us of ways of knowing long forgotten, images of deep and vigorous masculinity centered in feeling and protective of the young.   At once down-to-earth and elevated, combining the grandeur of myth with the practical and often painful lessons of our own histories, Iron John is an astonishing work that will continue to guide and inspire men-and women-for years to come. ...Show more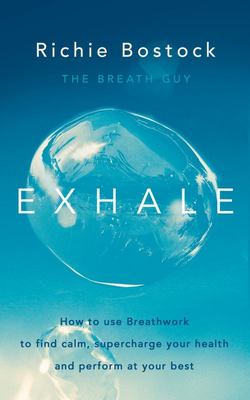 $34.00
NZD
Category: Self Improvement
More energy, less stress, better sleep, happier lives. Isn't that what we all wish we had more of? Well, the solution is, quite literally, under your nose: your breath. From leading Breathwork practitioner, Richie Bostock, comes Exhale - a guide to learning the transformative power of breathing to help you lead a happier, healthier life. Exhale will help you master your physical, mental and emotional state in the comfort of your own home. Whether you're looking to reduce stress, improve creativity, tackle back pain or treat chronic ailments, conscious breathing has benefits for everyone. With over 40 exercises, experience the life-changing effects of Breathwork and cultivate your own breathing toolkit. With techniques inspired by traditional Sufi meditation and practices implemented by the Navy SEALS, Richie's Breathwork plan will help you find the solution to life's everyday challenges, in as little as ten minutes a day. Greater health and happiness is just a few breaths away. ...Show more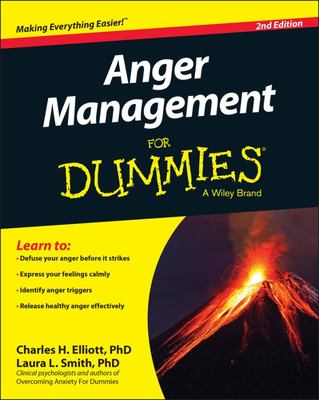 $37.99
NZD
Category: Self Improvement
Your one-stop guide to anger management Anger is a completely normal, healthy human emotion. But when it gets out of control and turns destructive, it can lead to problems at work, in personal relationships, and in the overall quality of life. Anger Management For Dummies provides trusted and authoritat ive information on anger management methods, skills, and exercises that will help you or a loved one identify sources of anger and release them healthily. Anger has become one of the most intimate issues in today's world as life, in general, has become increasingly stressful. . Anger Management For Dummies shows you how anger is often a bi-product of other more primitive emotions, such as fear, depression, anxiety, and stress, and arms you with the strategies that can help you conquer them. Inside, you'll discover how to overcome obstacles to change, rethink rage, confront anger head-on with healthier responses, and much more. * Features new and updated coverage on road rage, air rage, office rage, and dealing with angry children * Introduces you to new cognitive strategies for changing angry thinking * Explains the difference between anger and aggression * Shows you how to effectively and safely deescalate difficult people and situations With the tools, tips, and strategies provided in this hands-on guide, you'll find everything you need to overcome anger and live a happier, more productive life. ...Show more
$40.00
NZD
Category: Psychology / Sociology:
Get what you want from even the most difficult characters All of us have to deal with difficult people. Whether we're asking our neighbour to move a fence or our boss for a pay rise, we can struggle to avoid arguments and get what we want. Laurence and Emily Alison are world leaders in forensic psycho logy, and they specialise in the most difficult interactions imaginable- criminal interrogations. They advise and train the police, security agencies, the FBI and the CIA on how to deal with extremely dangerous suspects when the stakes are high. After 30 years' work - and unprecedented access to 2,000 hours of terrorist interrogations - they have developed a ground-breaking model of interpersonal communication. This deceptively simple approach to handling any encounter works as well for teenagers as it does for terrorists. Now it's time to share it with the world. Rapport reveals that every interaction follows four styles- Control (the lion), Capitulate (the mouse), Confront (the Tyrannosaur) and Co-operate (the monkey). As soon as you understand these styles and your own goals you can shape any conversation at will. And you'll be closer to the real secret- how to create instant rapport. ...Show more