$39.99
NZD
Category: Painting & Drawing Manuals | Series: For Artists Ser.
Sketching Techniques for Artists is the modern guide for learning essential sketching and watercolour techniques for creating landscapes, cityscapes, architecture, figures and faces, still lifes, and more.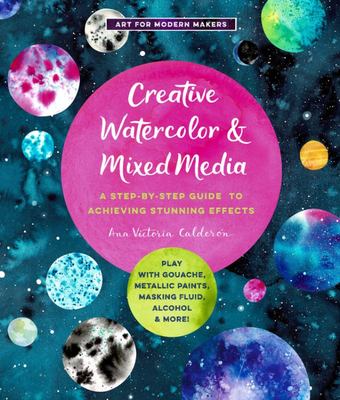 $39.99
NZD
Category: Painting & Drawing Manuals | Series: Art for Modern Makers Ser.
A follow-up to Ana Victoria Calderon's Creative Watercolor, Creative Watercolor and Mixed Media combines watercolour with a whole new lineup of materials and depicts a variety of natural and mystical motifs.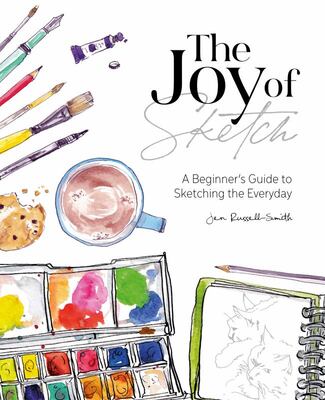 $42.00
NZD
Category: Painting & Drawing Manuals
Rediscover the pleasure you got from childhood drawing, before you became too self-conscious and self-critical to enjoy it. Most children draw. Before we can write, even, we scribble and sketch and create. But somehow that gets lost as we get older. We learn that Being An Artist is hard and complicated , and that there are technical rules to choosing colour and perfecting your perspective. This book is here to remind you of the joy you once found in creating, scribbling, getting something down on paper - and that it's really about the process and nothing to do with how technically brilliant the finished 'artwork' is. In this accessible guide, largely self-taught artist Jen Russell-Smith takes beginners by the hand and breaks down the barriers we face around sketching, and shows you how to begin with quick, loose sketches building your confidence and skills to draw spontaneously, with nothing more than the things around you for inspiration. With simple exercises that anyone can follow, Jen shows you how to sketch the things and the places around you from life, using simple watercolour techniques to add vibrancy to your work. With simple exercises and step-by-step tutorials, Jen shows you how to sketch the places around you from life, and those further afield from photos, using simple watercolour techniques to add vibrancy to your work. ...Show more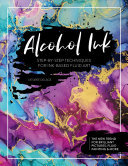 $45.00
NZD
Category: Painting & Drawing Manuals
Alcohol inks have exploded onto the art scene with the rise of fluid art techniques such as paint pouring. These accessible inks can be used to create stunning abstract art, even if you're a total beginner. Through step-by-step tutorials and exercises, you'll learn everything you need to know to get sta rted with alcohol ink and how to combine techniques into incredible, bold and colourful, abstract art. As well as paintings, you'll discover inspiration and advice on using the techniques to decorate fashion and home accessories for striking handmade gifts. ...Show more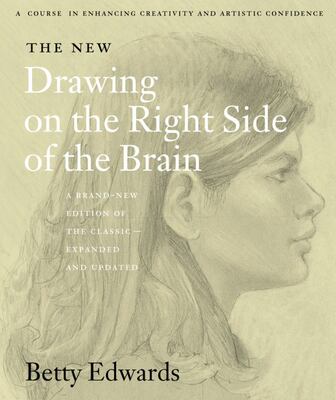 $42.00
NZD
Category: Painting & Drawing Manuals | Reading Level: very good
A brand-new edition of the world's most widely used drawing instruction book, expanded and updated with more than 50 per cent new material. If you enjoy sketching but feel stuck at a childlike level, this classic handbook will give you the drawing skills you have always wanted. If you are already drawin g as a professional artist, it will improve your confidence and deepen your artistic perception. As well as giving detailed advice on how to draw anything you want - including ways to step from black-and-white into colour - Edwards exploits recent developments in brain research to show how drawing skills can be used in the corporate world, in education, and even in problem-solving. Since it first appeared more than 20 years ago, this book has helped millions of people perfect their drawing skills. It can work for you, too. ...Show more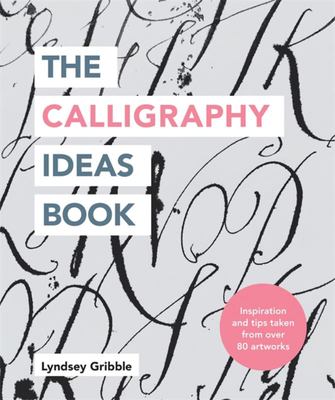 $24.99
NZD
Category: Painting & Drawing Manuals
Unlock your inner creative with the beautiful flourishes of calligraphy Packed with fresh ideas for calligraphy techniques, styles and subjects, this book is a visual feast of inspiration for all abilities, whether you're new to calligraphy or looking to reinvigorate your practice. Boost your creativit y with the help of more than 80 artworks by contemporary, international calligraphers, each demonstrating an interesting or innovative approach. Explore both new and old methods and discover the basic skills to excel at this ancient art form. The art of calligraphy is the ultimate way to relax and create beautiful pieces of art - and this book is sure to renew your creativity.   ...Show more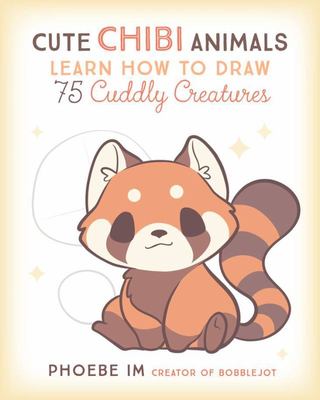 $29.99
NZD
Category: Painting & Drawing Manuals
Cute Chibi Animals teaches you this popular anime and manga drawing style with easy-to-follow instructions for drawing 75 adorable animals and fantastical creatures.
$24.99
NZD
Category: Painting & Drawing Manuals
A new Draw Your Own Comic Book, this time with even more features to entice kids to be storytellers! This book will feature "Story Starters" to help kids plot out the action, as well as fun stickers to decorate the pages. A great screen-free activity for any kid who likes to make up stories and draw, th is book will appeal to parents looking for ways to boost their kids' creativity while keeping them off their screens. ...Show more
$32.99
NZD
Category: Painting & Drawing Manuals
A new, gorgeously repackaged edition of the classic companion to The Artist's Way.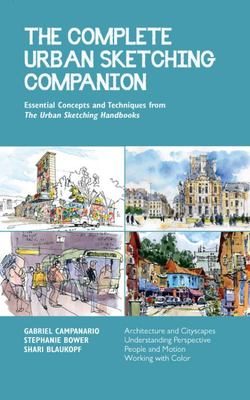 $39.99
NZD
Category: Painting & Drawing Manuals | Series: Urban Sketching Handbooks Ser.
Draw the exciting elements of your world with confidence using the tips, techniques, and ideas in The Complete Urban Sketching Companion. Packed with information and visual inspiration on sketching architecture, cityscapes, people, and motion, plus lessons on perspective and adding color, this collectio n will have you filling sketchbook after sketchbook with compelling artwork. The popularity of the urban sketching movement has grown worldwide, and it's easy to see why. Sketching on the go is exciting, rewarding, and creatively satisfying. With so many choices of what to sketch and how to sketch it, you need a companion to offer valuable insights, enlightening tips, and tons of ideas and inspiration. The Complete Urban Sketching Companion is that helpful guide to take along on your next overseas adventure, or to your favorite caf around the corner. This book includes key drawing techniques and strategies from four books in the Urban Sketching Handbook series: Understanding Perspective, Working with Color, Architecture and Cityscapes, and People and Motion. Learn how to draw unique buildings, urban landscapes, and lively street scenes, incorporating interesting elements and striking color and lighting. Get tips on sketching with accurate perspective with easy methods and great examples to guide you along. Discover ways to capture motion, whether it's a group of dancers or commuters on the move. Become confident in adding color to artwork by learning about different mediums and color mixing techniques. In The Complete Urban Sketching Companion you'll also find: Simple tools and materials to get started Ways to build a well-composed scene Techniques for drawing urban environments to scale How to construct a sketch in layers Tips for rendering different types of perspective Strategies for creating dramatic shadows How to include a range of color values to create depth Ideas for interpreting movement and gesture Methods for drawing individuals and crowds Get started on your urban sketching adventures today, and start capturing life. ...Show more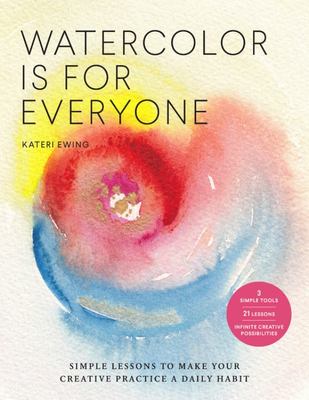 $39.99
NZD
Category: Painting & Drawing Manuals | Series: Art Is for Everyone Ser.
Watercolor Is for Everyone guides you through 21 intuitive, process-based painting lessons that help you discover your own unique artist-within while creating works of beauty you will joyfully send out into the world to share. In this beautiful book, artist Kateri Ewing, author of Look Closer, Draw Bet ter, guides you through a series of simple creative projects using a soulful, meditative, and reflective process. Whether you're picking up a paint brush for the first time or are an experienced artist, you'll discover and deepen your creative potential through these exercises, because everyone can make art. Each project results in two art pieces, one to keep for yourself, and then another one, such as a postcard or mini painting, to share with someone else or send out into the world, to spread their color, creativity, and joy in new places. With Watercolor Is for Everyone, you can learn how to build a daily practice and how to set intentions and create, even if you have just 10 minutes a day. The projects draw inspiration from poetry, music, literature, and the natural world, and invite experimentation with a variety of sources, from tarot and oracle cards to rocks and feathers. You'll pursue your personal passions through accessible projects as you build your artistic skills, confidence, and creativity. ...Show more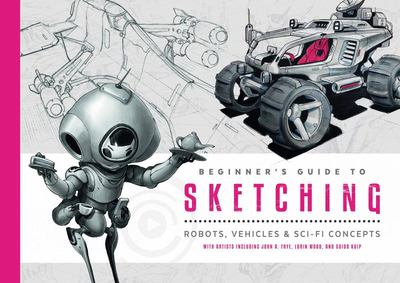 $83.99
NZD
Category: Painting & Drawing Manuals
Following the success of Beginner's Guide to Sketching: Characters, Creatures & Concepts, 3dtotal Publishing presents readers with another fun, inspiring book on traditional sketching, with a focus on sci-fi themes. From robots and spaceships to buildings and aliens, Beginner's Guide to Sketching: R obots, Vehicles & Sci-fi Concepts is an informative starting point for any sci-fi-loving beginner artist who needs an introduction to traditional drawing and rendering techniques. Richly illustrated tutorials by industry professionals will guide the reader through learning a wide range of drawing tools, the basics of lighting and perspective, creating different rendering effects, and how to create sci-fi concepts that are both convincing and excitingly futuristic. ...Show more